SDGToolkit is a cloud-based project design and implementation and portfolio management software as a serivice (SaaS) system. This has been developed to support project teams and policy makers concered with developin and implementing actions in support of Sustainable Development Goals under Agenda 2030.

In 2015, the United Nations 8 Millennium Development Goals (MDGs) were replaced by Agenda 2030 with 17 Sustainable Development Goals (SDGs) covering multiple targets and around 240 indicators (SDCGIs). It is self-evident that securing these goals requires complex processes that require a systems engineering economics (multi disciplinary)
2
approaches to identify solutions as to how to address each one.





























The global indicator framework for SDGs was developed by the Inter-Agency and Expert Group on SDG Indicators (IAEG-SDGs) and agreed upon in March 2017. The global indicator framework was later adopted by the General Assembly on 6 July 2017 and is contained in the Resolution adopted by the General Assembly on Work of the Statistical Commission pertaining to the 2030 Agenda for Sustainable Development (A/RES/71/313), Annex. The indicator list includes the global indicator framework as contained in A/RES/71/313 and refinements agreed by the Statistical Commission at its 49th session in March 2018 (E/CN.3/2018/2, Annex II). The list includes 232 indicators on which general agreement has been reached. The total number of indicators listed in the global indicator framework of SDG indicators is 244. However, nine indicators repeat under two or three different targets so the actual total number of individual indicators in the list is 232.

The 2019 Sustainable Development Report concerning the progress of Agenda 2030 showed that over 65% of the indicators for respnsible consumption and production (SDG12) and climate action (SDG13) had not been specified by the date of publication of that report.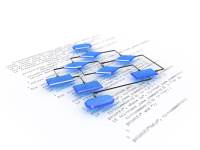 STscripts are software components designed and tested under the Seel-Telesis applied research & development programme.

Since it's foundation in 1983, SEEL has produced a library of thousands of STscripts applied worldwide.

As from May 2019 the scripting language was substituted by an open source systems.
With the reorientation of focus to Sustainable Development Goals project design focus needs to shift from a project-centric and limited beneficiary groups to nationwide beneficiary perspectives.
In preparation several SDG programmes and large aid agencies have acknowledged the importance of macroeconomic policy decision analysis models to optimize the management of SDG planning at the national levels. Most of the results of these efforts began to appear in 2017. As a result, there is now a significant gap between the quality of information generated by conventional project cycle systems and the requirements of government strategic planning. The gaps relate to:
lack of design optimization
lack or reliable evidence-based quantifications of project design projections
poor sensitivity and risk analysis
inadequate methods of measuring potential impacts of projects on national SDG indicators
The due diligence design procedure deployed by Navatec (3DP) is currently best practice for items 1,2 and 3. For item 4 SEEL developed and tested over 60 analytical tools (ATs) to ensure that any project proposal contains reliable quantitative estimates of the potential impacts of a project on the national level SDG indicators. A final optimized collection of 65 ATs will be released with the first version of SDGToolkit.
The ATs are made up of components known as Seel-Telesis scripts or
STscipts
(see box on right).
These ATs output precise quantified estimates of validated data and guide the optimization, dimensioning and nature of project processes to deliver optimized and quantified positive impacts on target national SDG indicators. This data is compatible with macroeconomic strategic policy analysis and decision-making requirements and can read by macroeconomic models in seamless fashion.
Each SDG indicator is often determined by a results of a combination of different activities that involve specific ranges of expertise and capabilities to deliver the required goods or services that support a given goal.
SDGToolkit is unique in integrating project level and policy level data.

Many advanced, proven and robust operational research, statistical and mathematical procedures exist to resolve the problems identified. However, based on SEEL's field experience
2
and project performance reviews, it is evident that many people in charge of project design and management have not undergone training or possess any experience in using the relevant techniques. There continues to be a heavy reliance on Theory of Change (ToC) processes and Log Frame Analysis (LFA) which do not produce data to the standards required to support strategic national policy planning and implementation in the SDG era. The reason for this is that much of this analysis is carried out on the basis of open group participation sessions but notably little use is made of appropriate tools to provide the robust quantitative analyses. This is, to some degree, related to the fact that ToC originated in fields which did not demand a thorough quantitative analysis. It is also due to the fact that the number of tools required is large and they are not readily available. This has two significant outcomes.
The full range of options available as solutions to specific objectives are not reviewed
Participants to end up in a default bounded knowledge space limited by what they collectively know-how-to-do
Identified basic solutions are seldom optimized.
This creates a major gap in the reliability of any quantitative data generated. This is a critical issue when the project process is scaled up to meet the desired level of impact at the policy or macroeconomic level. This is because the simple projection of an unoptimized project process design to the national scale will introduce unacceptable levels of waste. This waste arises from proponent teams not knowing whether the project they have designed in over-ambitious or under-ambitious. Over-ambitious project processes are destined to fail and attempting to apply such models as national policy components will result in failure and a significant waste of financial resources. Under-ambitious project processes might well succeed in achieving more modest objectives but represent a significant opportunity cost and failure of national policies delivering the desired development impact. This is an ineffective and inefficient use of financial resources.
There is therefore a major gap arising from the failure to deploy appropriate procedural analytical methods and this is caused by the fact appropriate tools do not exist and also there is a lack of appropriate training and experience in using such methods. Project cycle management guidelines published by most funding agencies do not include procedures that support transparent SDG analysis to secure macroeconomic impacts.
In contrast to the somewhat subjective general project design methods it is preferable to base any planning and project design on a process that requires a team to come up with an operational model of a project to be able to simulate and test options. This requirement has several effects. One is that team members need to define the process a project will apply and then specify the required quantities and qualities of inputs and outputs. If a team cannot specify a working decision analysis model that can simulate existing known bench marked input and output data, then they do not have a basic design.
Without adequate tools model building is somewhat daunting. The complexities associated with many logical, mathematical and operations research tools are eliminated by the 3DP and the new online utilities. Building models using the utilities is facilitated by online help and intuitive interfaces (dialogs). The Navatec system then uses the data to create project decision analysis models populated with the prepared data automatically. As a result, highly refined analyses and optimized project designs can be produced by following the detailed onboard instructions and guidelines. The utilities improve sensitivity and risk analysis as well as impact projections and overall optimization.

The SDG 2015 agreement applied the SDGIs to over 190 countries and not just low income countries. The wide range of conditions across the 190 economies that include high, medium and low income countries complicates the analysis and the design of processes to improve the indicators associated with each one. The major challenges in improving human conditions, as reflected in SDG indicators, is in the low income countries where
the required emphasis is on actions based on economic development principles rather that tweaking conventional macroeconomic policy frameworks.
In order to facilitate the analysis of policy options to lever the effectiveness of project level actions, SEEL is developing macroeconomic strategy and policy decision analysis models for low income economies. These will be released in January 2019.

During the course of our reviews of SDGs and SDGIs we have encountered numerous examples of difficulties in translating SDGs and the SDGIs back to measurable quantities at project level. There is no issue here with the power of the scripting language used, the issue is that many SDGs and the associated SDGIs have created significant gaps in coverage of essential realities, sectors and actions perceived to be of importance to very large groups of stakeholders.
These findings have been passed to OQSI (Open Quality Standards Initiative) to identify procedural solutions at the project design level. This work has given rise to a review which will be published as a joint report by The George Boole Foundation, OQSI and SEEL in December/January 2018/2019.
Below is a general schematic of the Sustainable Development Goal logical functions map. Please note that SDG 8 and SDG 9 have been divided into their specific components as 8a for decent work, and 8b for economic growth and 9a for Industry, 9b for innovation and 9c for infrastructure, respectively.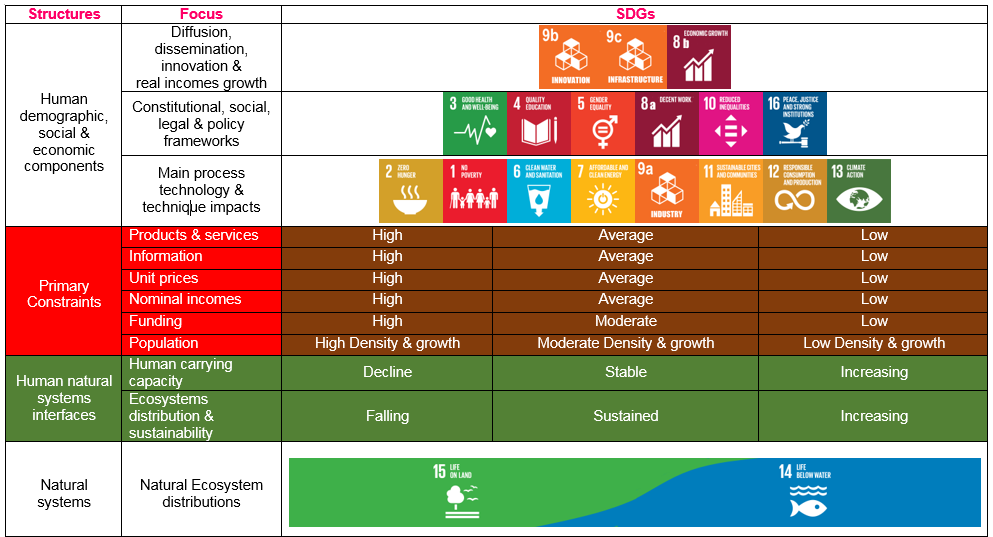 ---
1
SEEL has over 30 years experience in applying Systems Engineering Economics. This is a method of identifying solutions to any problems based on the construction of decision analysis models to analyse solution options based on quantitative simulation, sensitivity analyses and optimization techniques according to criteria of quality of information management, resource costs, unit costs, margins, effectiveness, efficiency, resilience and sustainability.
2
SEEL staff and associates have in excess of 50 years experience in the design, management and evaluation of development projects for such organizations as FAO, World Bank, European Commission, DfID, ICO, CBD amongst others and corporations such as Interbras, Cobec, Intercomex, Unilever, Mars, Express and Aquion.
---